Scout Other Trips
---
13th October 2012. Camping Barning.
Prof, Matt W, ZZT
Friday 12th - Drive up to Taddington and leave my car at the camping barn. It seems to take most of the evening.
Saturday 13th - Catch the bus at 8:30am to Bakewell. When we arrive give them a compass and talk though the route. Me and Matt then give them 15 minutes head start. They find the railway easily enough and walk along it. We meet up with them just by Cressbrook. They then go on ahead. Eat our packed lunch sitting on the viaduct. Shelter from the rain for ten minutes in the mouth of the tunnel. Walk all the hill opposite Ravenstor. It starts to rain as we get into Taddington. Paul Jennings phones about a Trent 700 trim problem just as we are arriving in Taddington. No signal at the barn. Margaret is not too pleased that we dumped the car there last night. The scouts soon find the pool table and the parrot at the Queens Arms. The scouts cook chicken curry and pasta bolagnaise for tea. Back to the pub to get warm. In bed and quiet for midnight.
Sunday 14th - Awake from 7:30am. Scouts cook breakfast, bacon and egg. Matt goes through the route with Jack and Ben. We are under way for 9:30am, give them 20 minutes start. I miss a bit of a short cut as me and Matt come into Deep Dale and they get further ahead. Meet up with them in Monyash. They go ahead and we have one in the Bulls Head. Walk down Lathkil dale. We don't see them till, ZZT More here. We miss the 5:15pm bus and only just makes the 6:15pm Annette picks me up in Darley bridge, we go back to Taddington to get my car. I am back at the scout hut before the parents.
---
Group camp - Melton Sept 2011
---
15th November 2008. Camping Barning.
Prof, Annette, Tim A, Toby K, William B, Calum R
Saturday 15th - Drive to Belper to catch the Transpeak at 9:45. It is full so Annette and I get on the Sixes, this also goes to Matlock but goes via Wirksworth. We arrive at the new Sainsbury's bus station. I have a great bacon and egg sandwich from Belper Morrison's. Start walking at 11:40, a little light rain to start with. Walk up to Bonsall, have lunch by the cross. Go into the café for cups of tea. Walk on, a navigational error takes us past the Barley Mow and then over the fields towards Winster. They are starting to get the idea of following the route on the map. Buy some food in Winster and then cross the valley to Birchover. It goes dark as we are walking up to the farm, very muddy on the last stretch. The electricity and the heater don't work so the barn is rather cold and dark. Cook sweet and sour chicken and chicken curry in the cooking area outside. Tim is very cold in the night.

Sunday 16th - My phone alarm goes off at 8:30 and they start to wake up. Eventually get a cup of tea in bed. Start walking at the same time as yesterday, i.e. 11:40. Nice clear day, fresh. Walk over Stanton moor, due to a navigational error we miss most of the tree people. Have lunch looking down over Rowsley. Ask them to take a bearing of the TV mask on Stanton moor, none of them can actually do it. Start to get annoyed with Calum, he still is pretending that he can navigate. Quite pleased to arrive in Bakewell. Catch the 4:40 bus, get off at Belper.

---
10th November 2006. Taddington Expedition.
Prof, Annette, Glenn R, Charles P, Thomas B
Friday 10th - Arrive - More here
---
18th August 2006. Walesby Camp.
Leaders - Rachael, Prof, Annette
Scouts - Thomas F, Glenn R, Tim A, Callum R, Alex MS, Callum H, Jack M
Friday 18th - Leave work straight from lunch. Pick up Rachael, go to hut. Drop off the food and then I go to get gas, end up at the garage by the Pentagon. Pack the trailer, lift it onto Pete's car and the handle falls off. Drive to Kilburn to fix it. Pete and Rachael then set off up the A38. I pack some stuff and set off after them at 4pm. Just after Alfreton Pete's car over heats and Rachael phones me. I put four bottles of lager in the radiator. He starts it and loads of white smoke comes out. His calls his lad Paul to come and get him. Me and Rachael drive on up to Walesby. The parents have been since 4pm and have gone to McD's. Drive to the camp site, arrive at about 5.30pm. We can find nobody around to check us in so I ring the emergency bell. Staff come running from all directions. We choose a site well away from everyone else. Just start setting up in the rain when me and Pete realise that there is loads of stuff in his boot on the A38. I drive back to get it, get there for about 8.30pm. Get Annette and Thomas at the same time. The parents and Rachael have done a fine job of setting everything up. Fantastic calm starry night. Scouts go to bed for 11ish. We have to stay up till 2am waiting for them to go to sleep.

Saturday 19th - Bacon, eggs, beans for breakfast. Go down to archery for 11am. Seems an incredibly small course but ends up being a good fun hour. Move straight to the 45 foot climbing wall. All the scouts have a go, most get to the top. I have a go and get to the top. The instructors make me sing I'm a little tea pot on the way down. Back for lunch and then Annette and I set up the peg finding game, they don't go round the course very fast. Since the chicken is still frozen we have pasta bolognaise. After tea go to the camp fire from 7 till 8. Doesn't seem that good at the time but the songs stick in our minds ( particularly Jack ) for a few days. Baby jaws. Polar bears. Disco from 9-11, leaders have to wait in the camp bar. Back for biscuits and hot drinks.

Sunday 20th - Heavy rain wakes me up at 4.10am. Bit of a slow start in the morning. Glen and Alex do sausages and boiled eggs for breakfast. When I try to crack my egg it seems to be made of rubber. We all have to rush to be ready for the bus to Church. Annette does not go and Rachael suddenly declares that she does not feel very well. I have to borrow her shirt. Wait for the bus to Church from 10 till quarter past, but no show. Decide that we have been scammed. Take them on a walk by the river, have a look at Robin Hood's cave. Have sandwiches for lunch and then we all walk down to the lake for 2pm kayak session. Whilst Trish, the instructor, is giving the briefing I seem to have a problem listening to which hand to hold the paddle in, the girls find it funny. On the way back the girls grab a BBQ from another site to take it to ours. We all go collecting wood. It takes a long time to get a good fire going. I cook the chops on the fire with Annette. Rachael cooks the potatoes, etc in the tent.

Monday 21st - Heavy rain from 5am. Get up early and cook a little quicker than yesterday. Get down to the lake for the Raft building. All the scouts have a go and Annette also. They have to tie four barrels and poles together. Both rafts collapse in the water, lots of splashing around for two hours. We all go back for a shower. We all do the 1 hour orienteering course, some of them walk round. Rachael, Annette and I walk round but we cannot find the second clue. Chicken curry for tea, goes down very well. Nip out to Tesco in Ollerton to get a few things. Pete Dixon and Paul Lambkin turn up at about 7pm. Paul gets lots of wood and we have a big fire and lots of jokes and singing.

Tuesday 22nd - Good weather. Pack up from the start, about ready by noon. Ring Robert Taylor to ask if he can pick us up. Invest Alex. Most scouts leave at about 2pm. My car will not start, ring Robert to ask if he can get some jump leads. Back to the hut for about 6.30. Mrs Rhodes helps us unpack. Done for 7.30pm.

---
18th June 2004. Gradbach Mill "I'm a scout, get me out of here !" Camp. Rachael, Adam, Annette and Prof are leaders.
---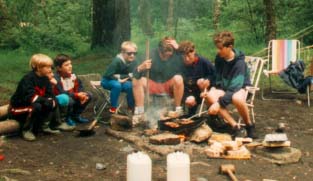 June 11th 1993 Group camp at John Lee camp site.

---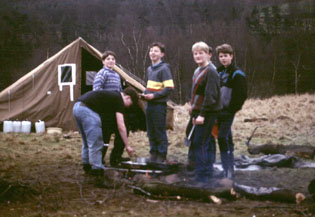 Feb 1991 - Weekend Camp at Lee Bridge with Rich Martin, Paul Furmston, William Bugg, Chinney, Andy Gregory, Charlie Binns.
Friday 22nd - Drive up to Lea Bridge in Belper Van and put the tents up while the sun shines. Get lots of fire wood and start the fire. Cook on the gas rings due to heavy rain. Leave a large log on the fire. They have an early night and tell ghost stories.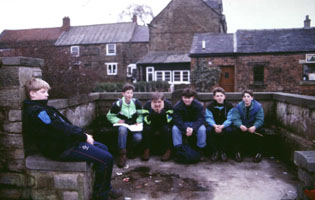 Saturday 23rd - Cook breakfast on the fire. Walk along the river and up to Crich. Crich stand is shut due to the high wind. Get some essential supplies, i.e. tea bags. Walk along the top to Holloway, very windy. Cook chicken, bacon and baked potatoes on the fire. Have toast and marshmallows to follow. Stay up late talking.
Sunday 24th - Rain in the morning. The fire is still alive. Cook a large breakfast and get packed up. Leave at 3pm.

---
Aug 27th 1989. Back Packing with Flod, Lee Pollard and Mark Ecob.
Sunday 27th - Pick up Flod and Bunce at 2pm, go up to the Scout hut to get some stuff. Drive to Belper and catch the bus at 4.15 to Buxton. First try the camp site south of Buxton, this is full so we have to walk up to Cold Springs farm again, get there for 8pm after stoping in town for food. Put up the tents and then walk back to the Sun Inn.
Monday 28th - Wake up to a beautiful sunny morning, lie in till 9am. I cook bacon and eggs for breakfast. Get away by 11am, head south. Go over Hollinsclough. Camp at the Butchers Arms in Reaps Moor for the first time.
Tuesday 29th - Wake at 9am to steady rain, Flod cooks breakfast and I wash. We don't get out of the tents till noon. They want to go straight to the pub but I make them walk to Hartington, stay there for a while. Walk past the campsite where Flod stayed last time that he was in Hartington. Camp at Endon Cottage. Beef burghers, peas and rice for tea cooked by Bunce. Walk to the 'Duke of Devonshire' in the evening. Walk back playing the alphabet game.
Wednesday 30th - Wake up at 9am, off at 11am after a good breakfast. Walk all the way down the Manifold valley. Stop at Wetton Mill cafe for a cup of tea. Get to Waterhouses for about 3pm, just miss the bus, have to wait till 4.55 for the next one. Bunce is worried about missing a football game. Get into Derby for 5.45 and then get a taxi to Breadsall Village, Bunce just makes it.
---
May 27th 1989. Back Packing with Lee Pollard and Mark Ecob.
Saturday 27th - Pick up Lee and Bunce at 10.30am, drive up to Asda to buy some food. Catch the Transpeak at 2.15 up to Buxton. Walk up to Cold Springs farm. Walk back into Buxton in the evening for chips.
Sunday 28th - Get up at 7.30am, cook breakfast and break camp. On the move for 9am, go via the White Hall centre and Chapel-en-le-Frith to Peak Forrest for lunch. Walk over to Castleton and have a long rest. Push on over Hollins Cross to Edale. All the campsites are very full. Steak, chips and peas for tea. Walk down to the Nags Head later, packed solid.
Monday 29th - Walk up onto Hollins Cross and then along to Loose Hill and then Win Hill. Pass by the Yorkshire Bridge. Walk across to a very nice campsite in Hope. Walk into Hope later, go to the Old Hall and the Cheshire Cheese.
Tuesday 30th - Get up at 8.30, have a slow breakfast, walk along the river to Hathersage, have a late dinner and then catch the train to Sheffield.
---
October 1988. Drury-Lowe. Our one and only attempt at a camping competition.
---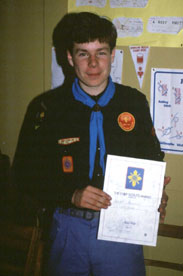 May 27th 1988 Bense gets his Chief Scouts award, the pinnacle of our achievements.
---
Jan 17th 1988 24 hour Dragons and Dungeons
---
March 29th 1986. Wetton Mill trip. Me, Dave Elks, Kevin Clarke. Matt Lister, Jurgen ( Dutch friend of Matt ), Jamie Widdop, Mark Antill, Roger Godber, Jamie Widdop, Mark Pollard, Jimmy Knifton.
Saturday 29th - Meet at 8.45am. Me, Min, Mr Antill and My parents all take cars. Get all packed for 9.10am. Matt Lister decides that he has to go home to get a Dutch language guide. Put up the tents in bright sunshine. The scouts run around exploring and then we take then for a walk down to Thor's cave. After we get back the weather worsens to a heavy storm. Beef burghers followed by steam puddings for tea. Dave arrives at 7pm.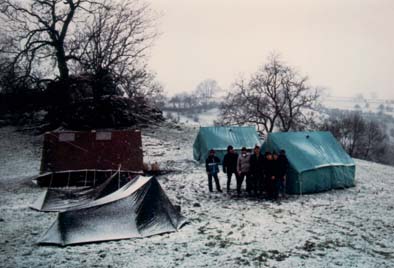 Sunday 30th - Wake up and are surprised by a heavy frost. Breakfast of sausage and eggs. Go for a walk by 10am. By this time there is half an inch of snow. Walk up the disused railway to Hulme End. The PL's navigate us back over the ridge. Back for 2.15pm. One by one we lower the scouts down a muddy 20 foot hole on a sticht plate and then drag them. Three lads from Biddulph who were camping near by also get lowered down the hole. Have a campfire sing song ( without the fire ), Matt Lister's birthday.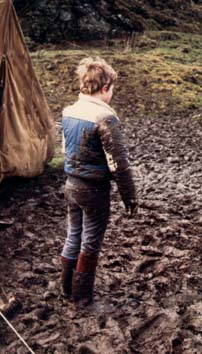 Monday 31st - Try to find some good abseiling places. Find a good place, very steep. Send a few of them down a steep muddy bank first. Decide not to do the big one due to wet rocks and large snow flakes. Mr Antill comes round to pick Mark up. Go for a cup of tea in the cafe, wait till it is empty first and then pile in, buy them all drinks. Mrs Lister and Jurgens parents turn up to take them home. Cannelloni for tea. The picture shows Mark Pollard after he had just fallen over in the mud for the second time. We all stay in the big brown tent and play Dungeons and Dragons. Play till 3.30am.
Tuesday 1st - Sausages for breakfast, sausages for lunch ( about 7 each ) Pack the tents away in reasonable weather. Mr Antill comes back to help us get the gear home.

---
Summer 1975 I go with Little Eaton scouts to the Back Dane house near Gradbach. To get there we are loaded onto the back of an open lorry. We have to crawl under some tarpaulin on the back for protection. On the way there we stop outside a pub. The leaders go in and tell the scouts that they are going in to ask for directions. After we have waited for over half an hour I can remember thinking to myself 'It must be a very difficult place to find!'. I realise years later that they just went in for a drink. I use a similar plan when we take the scouts to Alport Hut. We would stop at the 'Yorkshire Bridge' and tell the scouts that we were nipping in to get the hut key. William Bugg later told me that it took him years to realise that the hut did not even have a lock.
---