Rubicon V.S.U.
Rosedale Abbey 1992
---
30th August to 5th September 1992 ( The Levellers Tour )
Me, Adjy and Sarah, PK, Paul Tattershaw (Tats), Robert Tatton-Jones (Tatts), Ann-Marie Gregory, Michelle Busman, Joanne Pither, Frances Moffat, Mike Bailey, Paul Furmston, Rich Martin, Paul Gamblen, William Bugg
Sunday 30th - I pack till 1.30am, get up at 7am to go and get the van from Allestree, Mulbury. Back to my house to pack the food, Breadsall for 9.30am. Get packed easily for 10.30am and away. M1, M69 A1, stop in a greasy café for lunch, heavy rain. Tats fan belt snaps in Kirkbymoorside next to a garage, Tats fixes it with help from PK. Arrive at for 4.30pm, two caravans are on the same field, what a shame. Spaghetti Bolognese for tea, in the Milburn Arms for 8.30. Michelle knocks over three pints, I drink some excellent Old Peculiar, very crowded.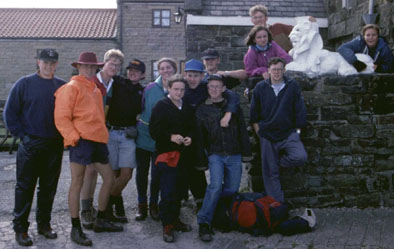 Monday 31st - Go for a walk round the valley. Downpour just as we get onto the track. Shelter in the kilns. Get up to the Lion for 2pm. Walk along to the Chimney, call in at the White Horse for a quick pint. We get to know a local bloke called Jack. Adjy and Sarah go back and cook a very good chilli-con-carne.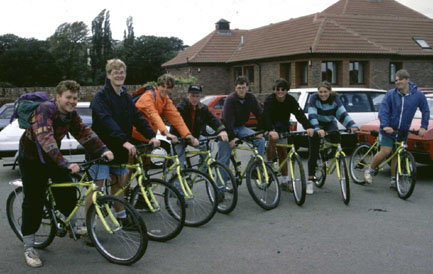 Tuesday 1st - Drive into Pickering Tourist information. Arrange horse riding and mountain biking. Take the cyclists to Malton station. Have 8 bikes for half a day, £6. The others go to Pickering Safeway and buy some more food. Back to Thornton-le-dale for 4.30, have one hour on a horse, not very exciting. I get quite good at trotting, Tatts looks a little worried. Drive back to Malton, find a good pub, 'The Clarence', Jo gets served.

Wednesday 2nd - Leave at noon for Scarborough, seems a long way. Go to Watersplash, water is 70F very cold, some very good water slides. Tatts and AM go to play bowls with his parents. Fish and Chips at 8pm, PK goes to the launderette. Video jute box in the Plough. Drive straight to the 'Lion', I have coke, meet Jack again, drive down the chimney late on.
Thursday 3rd - Late breakfast. Get lots of wood out of the river with Chinney. Go to Pickering, catch the 15.10 to Grosmont. Old peculiar on the train. Cup of tea there and come straight back. Buy more food. Have a large fire and do Chicken and bacon. All the potatoes are uncooked. Leave the washing and some go to the Milburn arms, see Jack. Go for a night ride to fryup, disco in the back of the van while going down country lanes. Get back late and play the levellers tape over and over again, go on till 3am. Tats, PK, Funky and Fran try to stay awake all night.
Friday 4th - Chinney wakes up early, desperate for a gallon. walks up to the Lion with Big Rich and Funky, they all manage a gallon. We drive to Rosedale and phone up for the bikes again. Meet him in the Milburn Arms. A photographer comes from the North Yorkshire tourist board to take some action shots.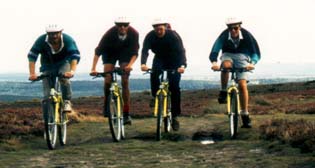 Adjy, Sarah, Tatts, AM do the horse-shoe. We go up the chimney, very hard. On Sauton Moor PK falls off, down to Cropton and Lashington and Cropton forest. Bottle out of going round the Horse-shoe. Home for 6.30. Adjy etc. get up on to the A170, get back for 8pm. Stew for tea very good. Pour the washing-up water over Chinney for being too lazy and impudent. Most of us go to the Milburn Arms. Everyone is tired, early night.
Saturday 5th - Wake up at 9.10am, get cycling by 10.15, go up the valley on a track with PK, Chinney, Mike and William. Go up to the Lion and cycle to the chimney. Go down to the Ana Cross again and down the chimney fast. Play golf in the afternoon on the most credible course. The greens are at such an angle that the ball rolls off. Cook Pork chops and burgers on the fire.
Sunday 6th - Woken at 7am by heavy rain. Take the tents down in the rain. Away by noon, call in at the White Horse on the way out. Stop at Helmsley for mementoes. Home for 6pm.
---