Rubicon Other Trips
---
Meridian Night Hike - Saturday 25th October 1997.

Get there at 7.30pm, go to the Plough till 10pm. 20 mile night hike, Me Helen, Matt, Sam and Fay. Sandiacre, Borrowash, Aston, Shardlow, Long Eaton. Debate crossing the river at Ambaston in the mist. Do extra 2 miles along the canal near Aston. It hurts along the canal for the last 6 miles. Finish at 5.30am. Matt and Fay go home. We come 2nd out of 8 teams.
---
October 1996. Drum Hill - Alton Towers Weekend.
Me, Helen Smith, Katharine Hanson, Ste Hanson, Ste Bailey, Tim Furmston, Phil.
Friday 18th - Down to the Scout Hut for 5.30pm, get all the gear out for the weekend. Get up to Drum Hill for 7pm, put the tents up in the dark. I go back to take scouts, return at 10pm. Tim and Phil turn up later.
Saturday 19th - Get up at 7.30am, cook bacon and eggs. On the bus for 8.30am. Spend all day with Helen and Fay, "Crest of the" and Katharine Hanson, go on all the big rides. Meet Ste Hanson and Ste Bailey at lunchtime. Drive down and have a Chinese for tea. Lots of us stay up till 4am.
Sunday 20th - Get up at 11am, bacon for breakfast. Starts raining at 1pm and does not stop. Rush the tents away and back to Breadsall.
---
April 13th 1996. Camping barning.
Me, Adjy, Sarah, Claire Proctor, Helen, Katherine Hanson, Ste Hanson, William, Tim Furmston, Phil.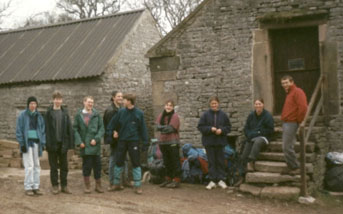 Saturday 13th - Catch the TransPeak at 9.30am. Adjy, Sarah and Claire wake up late and get on the bus at Duffield, still under the influence from the previous night. Get off at Taddington, walk to Chelmorton call in at the Church Inn for a few. Walk on to Monyash and stay at the Old Ash Grange farm camping barn. Have a bit of an incident while cooking tea. Walk back up to the Bull's Head. Very cold in the barn.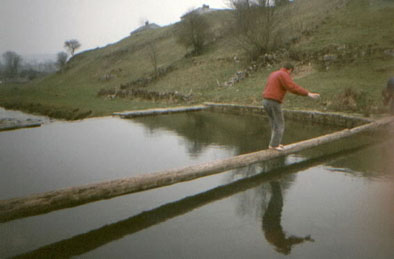 Sunday 14th - Get moving for about 11.30. Walk to Youlgreave for lunch, stay quite late. Challenge Ste Hanson to walk over a log over the river. Very wobbly but I make it. Ste is not so lucky. Walk on to Robin Hood's stride, play on the rocks as usual. Stay at the camping barn in Birchover. Excellent pork chops for tea. Red Lion till late.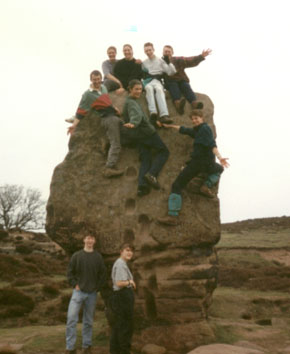 Monday 15th - Walk down to the Druids caves to start with. Walk up to Stanton. We eat dinner within the Nine Ladies circle. Lots of jokes about Satanism. Walk down to the Grouse and Claret for a quick pint, catch the 5pm bus home.
---
October 20th 1995. Drum Hill - Alton Towers Weekend.
Me, Helen, Kate Moffat, Matt Smith, Ste Hanson, Tim Furmston.
---
May 13th 1994. Back Packing.
Me, Adjy, Sarah Withey, Ann-Marie Gregory
Friday 13th - Leave my house at 6.30pm. I navigate to Langsett via Buxton and Glossop, leave Adjy's car. Drive back to Edale via Bradfield, struggle to find the camp site in the dark. Rush over to Castleton but the chippy is shut, Bull's Head for a pint. The girls sleep in my tent, Me and Adjy in the force ten.
Saturday 14th - Get up at 7am, sunny. Big breakfast walking by 9am. Set off up Ringing Roger. Have a long rest at 'Grains in the Water'. Very windy going down to Crowden, arrive by 7pm. Campsite now has a shop, toilets and a warden. Rains from 8pm.
Sunday 15th - Ann-Marie gets soaked by my leaking tent. I cook breakfast. Leave at 9.50am, steady rain all day. We head straight for Langsett along the road.
---
April 1994. Back Packing.
Me, Adjy, Sarah, William Bugg, Ann-Marie
Friday 8th - Adjy and Sarah pick up William and come round here for 6.15pm. Drive up to Ilam Y.H. and leave Adjy's car, I drive on to Litton. Go into Tideswell for fish and chips. Heavy rain, put up the tent, think about going B&B. Have one in the Red Lion, clear skies by the time we go to bed.
Saturday 9th - Wake up at 7.30am to 2 inches of snow. Good fried breakfast and away by 10.15am. Walk through Priestcliffe towards Taddington and then on to Flag. Shelter from the snow by a bus stop. Adjy and Sarah navigate all day. Rest at Crowdecote and listen to the Grand National. Get to the Butchers Arms for 6.30pm, snowing heavily. Chinney, Rich and Ann-Marie turn up. The campsite is flooded so we ask and a farmer and he allows us to use a barn. Chicken curry for tea. I fall through the roof onto Adjy and Sarah's tea, buy them a meal in the pub.
Sunday 10th - I cook breakfast with Ann-Marie, leave by 10.30am. Very wet walking to Warslow, then on to the Manifold valley. Cup of tea at Wetton Mill. Good weather in the afternoon, walk down the river, past Throwley Hall. More tea at Ilam Y.H. Adjy drives us back to Litton.
---
July 1993. Three Peaks
Me, William Bugg, Paul Gamblen, Rich Martin and Paul Furmston.
Friday 2nd - After scouts go over to Fran's, over a cup of coffee we decide to go ahead with the trip in my Orion.
Saturday 3rd - Meet at 6am. Drive up the A65 and then up the M6, A74, A82. Arrive at Fort William for 3.15pm, exactly 400 miles. Have some chips. We all start up Ben Nevis at 4.45pm, very low cloud. Top at 7.15pm, no views. Spend a lot of time getting changed when we get back down. Lots of people are going up as we come down. Drive south on the A82, they sleep, I make good progress, no stops.
Sunday 4th - Loads of people at Scafell, very dark and misty. They start walking at 3am. I drive round to the other side to wait for them, get a couple of hours head down. They appear at 10am, very wet and very tired. Drive down to Snowdon, queues on the M6. Arrive at Snowdon at 3pm. I tell them that Snowdon is a grandma's mountain but Funky and Big Rich stay in the car and sleep. Nice weather at the bottom, very wet at the top. We get back to the car for 6.15pm. Chips in Llangollen, home for 11.30pm. 1056 miles in total.
---
April 1993. Back Packing.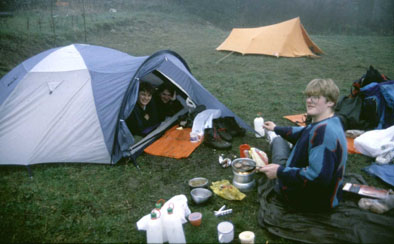 Me, Paul Gamblen, Rich Martin, Paul Furmston and Robert Tatton-Jones.
Friday 9th - Meet at Belper bus station at 10am. Robert Tatton-Jones, Chinney, Paul Furmston, and Big Rich are there. Catch the trans-peak up to Taddington. Heavy rain all day. Walk a couple of miles to the Church Inn and stop for a long lunch. Walk up through Buxton, camp at Cold Springs farm. Burghers and scrambled egg for tea. Walk into town in the evening, Sun Inn and the Cheshire Cheese, Tats wins £20 on the fruity. Argument about sovereignty within my tent goes on for quite a while. Very heavy rain all night.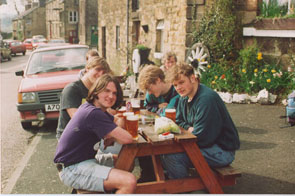 Saturday 10th - Get up at 8am to a bacon sandwich, away by 10-30. Go up past Solomon's Tower. Very good weather, blue skies all day. Go through the 'disused mushroom farm' with military guard posts. Enjoy walking down Hollinsclough Rake. Picnic just before Hollinsclough. Call in for a cup of tea in the chapel. Go to the Horseshoe Inn in Longnor, sit outside. Walk along the Manifold to the Butcher's Arms at Reaps Moor. Tat's family come to pick him up, they come in for a pint.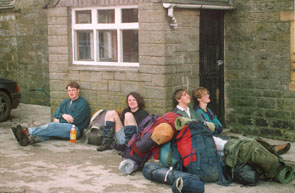 Sunday 11th - Bad weather returns. Another bacon sandwich and long discussions about the route. Walk down to Warslow and then down the valley and then up the hill to Wetton, Royal Oak. More rain and strong winds. We shelter in a small barn and Chinney makes cheese and pickle sandwiches. At Alstonefield we are told we cannot camp and that we have to walk back to Wetton by a snotty woman. Curry for tea, arguments about whether I can scrape out the curry pan. Camp at 'The George' and see her working behind the bar. Play cards all night.
Monday 12th - Heavy rain all night. Bread and coffee for breakfast. Set off by 10.45, go down to Eastern Hall, Callon and then Waterhouses for 1.30, just in time for the bus.

---
September 21st 1990. Bourne, 'Poke 90'.
Me, Anna, Quince, Pete Kirkland, Lisa Whitehead, Lee Pollard, Sarah Binns and others
Friday - Round to PK's for 5.30pm, try and find Quince. We pack all the tents and stuff in my car. Set off at 7.15pm in the end, arrive at about 8.15pm. See Gee on the road. We all drive into Bourne and visit a couple of pubs. Trouble with my car tyre on the way back. We have to unpack the car to get out the spare tyre. Put the tents up late at night.
Saturday - Get up at 10am, we all go into Bourne for a full English. Back to the campsite and go canoeing. Back into Bourne for a pub lunch. Quince and Anna go to the pictures, we all go to the disco till late. Sarah Binns injuries her leg.
Sunday - Rain in the morning. Gee and Lee want to get back for a Derby match. Pack away for 11am, take Sarah to hospital. Drive back via Melton, stop at "The Golden Fleece" in Upper Broughton and me and PK have a large Sunday lunch. Back for 3.30pm.
---
September 14th 1990. Colwyn Bay Edna's 60th.
Nibor, Edna and Pat, Flod, Anna, PK, + others
Friday 14th - After scouts drive down to Colwyn Bay with Flod and Anna. Flod has lots of cans of Pedi on the way. Get there for midnight, go and try to find which night club they are in. Wait for them to get back and then talk till 3am. Camp on Martin and Ruth's field. Kirsty and Laura sleep out with us.
Saturday 15th - Get up at 8am and have a good cooked breakfast. Drive to Tryfan, start walking at 11am. The lads clamber over the rocks all the way to the top. The ladies take it a little slower. I jump between the stones at the top. The lads get lost while in search of the off-license. Martin plays guitar until 4am.
Sunday 16th We get up at 11am, Nibe is not too well. The lads go to get the morning papers and get lost. Most of us go to Rhyl sports centre, good sauna, steam room, etc. Go for McDonalds and then up on the tower. Home for 9pm.
---
September 16th 1989. Drum Hill.
Saturday 16th - At about 3:30pm drive up to Drum Hill for the County Venture Scout Camp. Anna and Adjy are in charge. Also there are Lisa, Sarah Binns, Johnny Hammond, Gee, Bense, Andrea. They have not much food. Have a good fire. Have a good disco at 8pm. It was supposed to go on till 3:30am, but it finished at midnight. Adjy and Andrea have zip together sleeping bags. Lisa and Sarah disappear until 8:30am in the morning.
Sunday 17th - Watch the Sedan Chair race. Go to Little Eaton to get some food for dinner. Pack up all the stuff at about 3:30pm.
---
Saturday 14th June 1986 Rother valley - Go to Rother Valley country park, very hot day. Go with Anna, H&C, Quince, Richie Harris, Nibor. Take Heather's Dad's boat. Get Quince and Richie doing Eskimo rescues. Show them how to do a roll, take Anna round in the Bat, Get quite brown on arms. Get back about 6pm.
---
Sept 27th 1985. Church Stretton.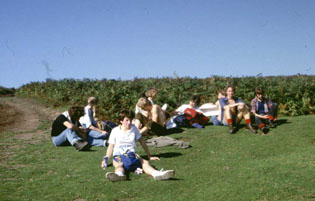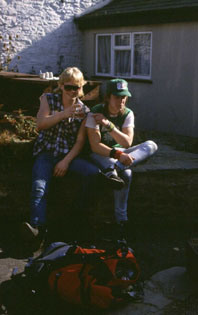 Nibor, Heather and Clive, Edna and John, Ian Vallans, Steve Gilbert, Lorna Toms, Sarah Pritchard, Anna, Flod, Bod, Quince, Phil Toms, Duff, Dave Elks.
Friday 27th - Drive down after scouts with Dave Elks, takes about 2 hours.

Saturday 28th - Go for a walk up onto the Long Mynd and then on to Wentnor, superb weather. Corn beef hash for tea, then walker to the pub. Heather asks me if I want to go skiing with her and Clive. play football when we get back, I stand on Lorna's foot.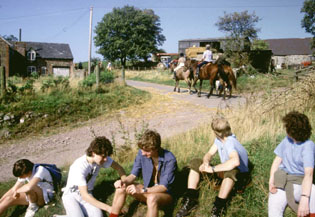 Sunday 29th - Take Lorna to hospital in Shrewsbury, takes about an hour, it is badly bruised. Go swimming in Shrewsbury, the ventures leave about 3pm. I drive up the Long Mynd and drive down to Ludlow for tea.
Monday 30th - I stay an extra day due to Rolls-Royce bank holiday. Walk up Caer Caradoc, no view from the top. Walk down into Cardington, Royal Oak serves excellent Ruddles County. Sunshine in the afternoon so I go back up Caer Caradoc for some fantastic views.
---
14th Jun 1980 start building the TR6 raft, race on 29 Jun
---
24th Feb 1980 Put new roof on the scout hut
---
6th October 1978 Venture camp at Lee Bridge. I cut my cheek whilst playing a rugby type game with my glasses on. Have 16 stitches in my face.
---