Coniston 1982
---
Friday 3rd September - Drive up to the Lake District with Heather and Clive in the van. I have to lie on top of all the gear in the back. Put up our tent at 2 o'clock in the morning.
Saturday - Rest of the gang come up in the Minibus, Nibe, Hazel, Louise, Mrs and Mrs Ory, Pat Hallam, AC, Ian Vallans, Dave Elks, Min.
Sunday - Stay on camp during the day, go down to the Crown Hotel later.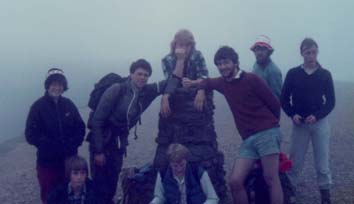 Monday - Go for a walk over Helvellyn and along Striding Edge.
Tuesday - Go Pot Holing down Alun Pot near Ingleborough, with some bloke that Sid knows.
Wednesday - Rest Day, walk round Tarn Howes with Nibe and John Ory.
Thursday - Attempt Scafell but it is too misty. Walk round Wast Water instead. Nibe takes us for a drive over Wrynose and Hardknott passes.
Friday - Rain all day, Drive to Keswick, take the long way home via Windscale and along the coast.
Saturday - Pack up and come home. Back for 6pm.


---