Work Related Pictures
---
Visit during March / April 2005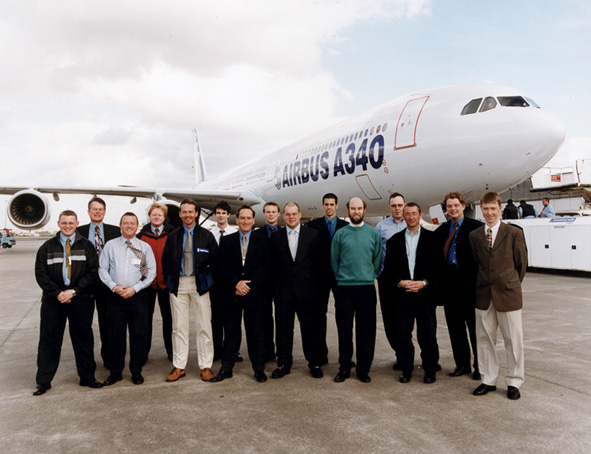 Trip to Airbus in Toulouse to install the Engine Monitoring System (EMS) and observe the first flight of the A340-600 on 23rd April 2001. From left to right Mike 'the grad' Morell, Pete 'Mad Dog' Summers, Steve Heath, Andy 'Lefty' Wright, Dave Head, Andy Whinray, Dave 'Corps' Field, Kris 'the boy' Goode, Paul 'no socks' Jennings, Chris Bevan, Nigel 'Bald with a Beard' Charman, Glyn Fox, Chris 'I had no time for sunbathing' Hargreaves, Rob Pendry, Robin Bryson.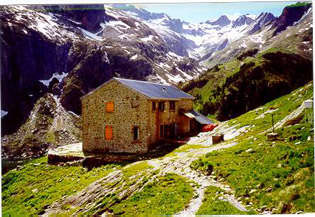 During the same trip Alan Deeley and I walked up to the Espingo Mountain hut in the Pyrenees.

---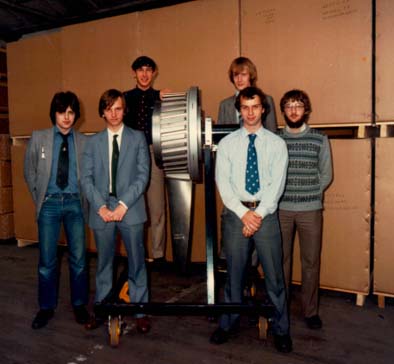 This is a my Rolls-Royce 'Design and Make' project from Summer 1981. It is a display stand for an RB211 fan. This is still in use in the Rolls-Royce exhibition Hall. Present are Richard Smith, Duncan McCreadie, John Peet, Nick Bugg and myself. The question is why didn't someone tell me about the beard ?

---