Mount Fuji 2001
---
Mount Fuji trip with David Taylor July 2001.

Friday 6th July - Stay up all night in an attempt to get ready for the time shift. Pick up David at 4.30am, drive to Birmingham airport. Fly to Frankfurt, have three hours there, watch the planes and have a McDonald's. We both feel very tired. Take off at 2pm, great views of Finland and Siberia. Sleep for a few hours.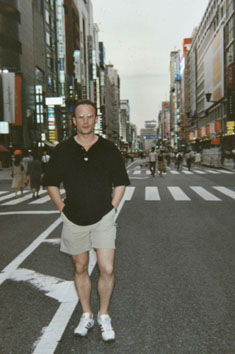 Saturday 7th July - Arrive at Narita, Japan at 7.30 am local time. We have not booked a hotel for the first night, when I give my immigration form to the official he tells me many times 'This form is NOT complete'. In the end I tell him that I am staying in the YMCA and he lets me through. Catch the Narita express to Tokyo central station, very hot. Go to the International Forum and book a hotel. Stay at the Yaesu Fujiya Hotel. Have a shower and a quick snooze. Go for a walk along Ginza high street, very busy, find the Sapporo Lion Beer Hall, very good atmosphere, no other westerners. Catch the train over to Shinjuku. Have a few drinks in the bars there, very busy.
Sunday 8th July - Start by going to the Imperial Palace for a wander round. We get very hungry and walk towards Kanda, have a meal in a supermarket. Go up the Tokyo Tower, we are both amazed that the city seems to stretch as far as the eye can see. Go for a meal on Ginza high street, traditional Japanese, very good. Have a few more drinks in the back streets but everywhere calls last orders.

Monday 9th July - Travel to Fujiyoshida on the train, change at Tako and Otsuki. Keep on looking out of the window for our first glimpse of the mountain. Arrive in Fujiyoshida and still no sight. Talk to a couple of lads who slept out on the mountain last night and failed to get to the top. Check into the Fujitomita Inn, David Tsuri picks us up from the station. The Inn is very good and David and daughter Sayori speak good English. We catch a glimpse of 'her', i.e. Mount Fuji through the clouds from our room.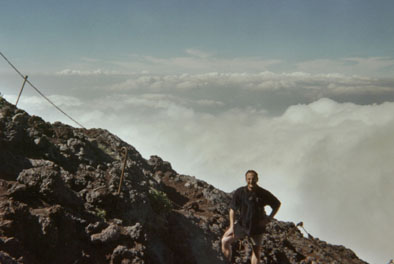 Tuesday 10th July - Catch the bus from Kawaguchi station up to the fifth station of Mount Fuji. Start walking at about 12.30pm. Steep, steady climb, lots of stops on the way. Get talking with a few people on the way up. Stop at the Fujisan Hotel on the eighth step, arrive at about 5pm. I had phoned from England to make a reservation and we had also called from the Fujitomita to confirm it. When we arrive there only seem to be ten other people staying there. It can apparently sleep 600 although there only seem to be four rooms. Have curry and rice for tea. Talk with a personal trainer from L.A. who walked all the way from station one, a bloke from Switzerland and two girls from California, Elizabeth and Yvonne. Go to bed at about 10pm since there is not much to do. The beds are very dirty, not sleep much, particularly David.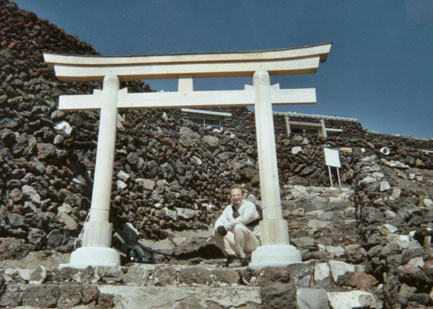 Wednesday 11th July - We are woken at 2am by the people who are walking to the top for sunrise and again at 4am to see the sunrise at 4.34am from the hut, very good but very cold. See the clouds way down in the valleys below. Back to bed for a couple of hours. Set off for the summit at 8am. David suffers a bit from altitude. Arrive at the tenth step for 9am, 12640 feet, 3776m. Spend two hours wandering round the top, cold and clear. Good views down to the clouds. Takes two hours of easy scree jumping to get back to the fifth stage. We have run out of money and have no water. See the girls again, they went to the top at 4am and it was cold, wet and cloudy. Back to the Fujitomita, excellent views from our room of the mountain and the huts.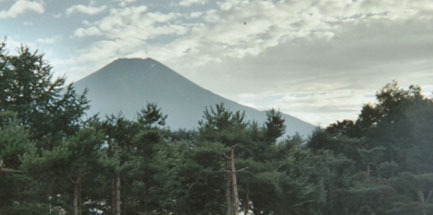 Thursday 12th July - Try to hire a car in the morning, but I do not have an international driving license. Sayori's offers to lend us her car, and we are very grateful, I drive. We go to have a look at some Ice caves first. Then head off to Kofu, the heat is amazing. Head down route 20 for a long way to experience rural Japan. Drive along route 52 and then route 300 over a pass and back to town. Back to the Inn for 10pm.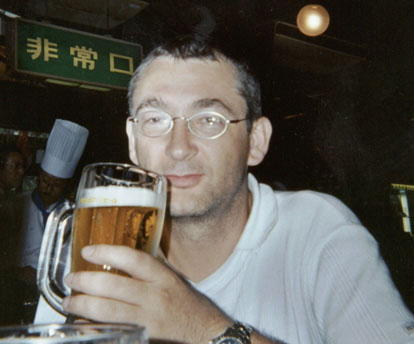 Friday 13th July - Catch the train back to Tokyo. Check back into the same hotel there are a lot of smiling when we say that we want a double room because it is cheaper. Go to the Sapporo Lion Beer Hall for a few. Go out to look for a few other bars and then head back. David has a glass boot full of beer which costs about £21, have food there.

Saturday 14th July - Catch the Narita Express and take off on schedule at 14:40. Clear weather again all the way, watch the wasteland of Siberia pass by for six hours, total flight time to Frankfurt, 11:25. Stay there for two hours and then to Birmingham, home for midnight.
---