Rubicon Long Distance Walks
---
Wilmot Wander - 28th Jan 1996
Start at 7:14am with Adjy and Sarah, William, Kate Moffat and Helen. Underfoot the conditions are firm, better than muddy, steady pace. Talk with William about his exams, Sarah about her taking a year off. Helen and Katherine start to hurt at 20 miles. A little sunshine in the afternoon. The girls are really hurting along the canal. We all finish in just under 12 hours.
---
Shropshire Way - Apr 1995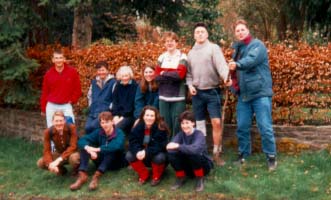 Rubicon V.S.U. organised a number of long distance walks to raise money for charity from 82 to 95 .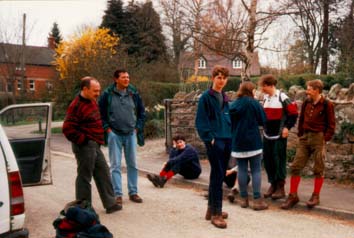 Another stop on the Shropshire Way.

---
Wilmot Wander - 29th Jan 1995
Walk with William Bugg and Matt Smith. Clear day. Use my new mobile phone to call my parents from the canal at Findern. Matt has never walked more that 15 miles before.
---
Wilmot Wander - 30th Jan 1994
Start at 7:22 Me, Adjy and Sarah, William and his Dad, M Bailey, Paul Furmston. Cold and Windy, keep up a cold pace. Michael and Funky give up after 18 miles. Mr Bugg lags behind a little, but there is no doubt about him finishing. Takes 11:15 hours. Last 4 miles hurt a lot. Knees not too bad, but blisters on my feet hurt a lot.
---
Belvoir Challenge - Feb 1993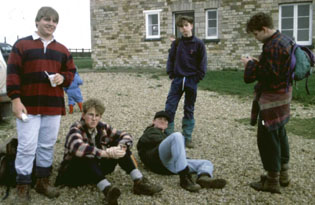 A 25 mile circular walk round Belvoir Castle in February 1993. There was a long running joke about the pronunciation of 'Belvoir' and I do not know if the ventures were ever sure if I was joking or not.
---
Wilmot Wander - 31st Jan 1993
Start walking at 7:36am, very fast pace to start with. Join up with a group from Emanon. Everyone is together until the Bridge Inn. The lads are keen to get going, catch up with them at Kedleston Road. OK till Shelton Lock, starts to hurt. Walk with Adjy, finish in 10:40, William finishes 20 mins ahead of me.
---
Rivers Way - Oct 92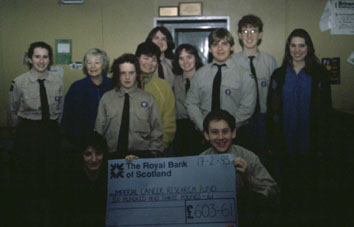 Cheque presentation for the Rivers way in Feb 93.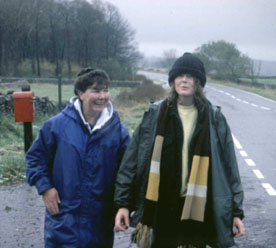 Edna Blount and Emily Hammond on the Rivers Way charity walk in October 1992. I had completed the Edale to Eyam walk on the Saturday and spend all day on Sunday supporting the other walkers from local hostelries, this is taken near the 'Duke of York'.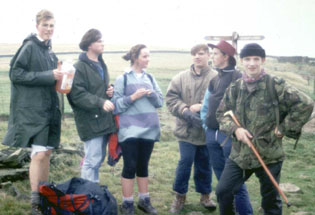 Wilco and others on a practice walk in preparation for the Rivers Way. He kept on asking me if we could 'TAB the first 15 miles'. It was a long time until we learnt that it stood for Tactical Advance to Battle. However during the walk itself he dropped out fairly early.

---
Wilmot Wander - 26th Jan 1992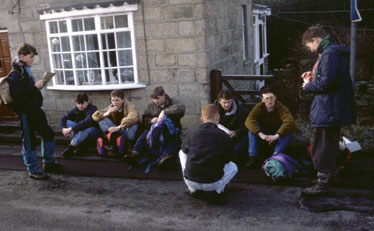 We take part in first Wilmot Wander. This is a 32 mile circular walk round Derby starting at Chaddesden and going through Stanley, Morley, Coxbench, Duffield, Quarndon, Mackworth, Radbourne, Findern, Swarkestone, Sinfin and back to Chaddesden. We had a team of 14 at the start. Jo Pither stopped after 18 miles, Adjy and Big Rich after 20 miles, Pat, Edna, Pete K, Tats and Wilko stopped after 28 miles. Me, William, Funky. Robert Tatton Jones and Michael Bailey make it all the way round in a grueling twelve and a half hours.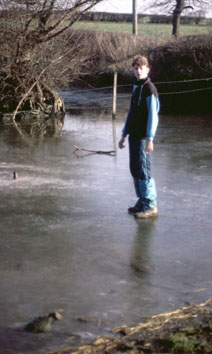 William standing on a farm pond at Vicarwood farm, Mackworth, almost half way round.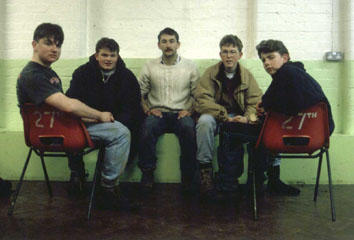 This is the team that made it to the end in . The last couple of miles along Raynesway seemed to last forever.

---
Gritstone Way - Sept 1989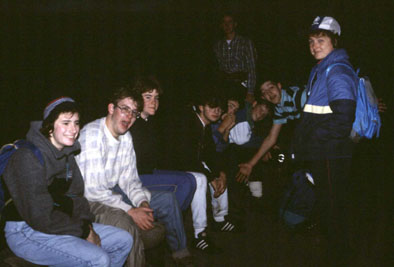 The start of the Gritstone way at 4am at Whatstandwell. PDF document


ZZT - The full writeup is in my Old Scouting folder ZZT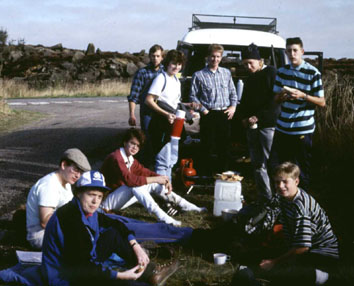 Having breakfast on the top of Beeley Moor.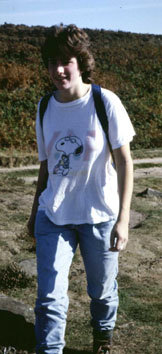 Anna on the way over Baslow Edge.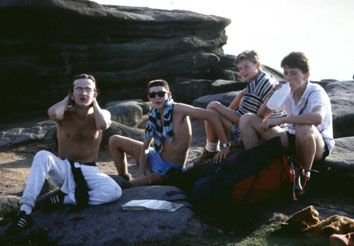 On Froggatt Edge with Richie Harris, Face, Lee and Bunce.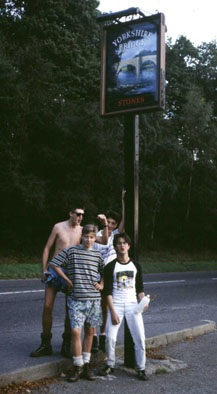 The end of the first day on the 'Yorkshire Bridge'.

---
Limey Way Sept 1986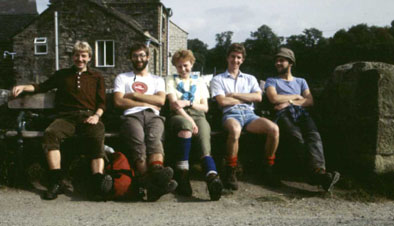 On the Limey Way September 1986. The 'A' team consisted of Robin Sibson, Me, Debbie Lloyd, Andrew King and Clive Rhodes.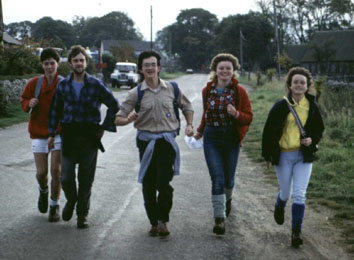 Racing to the support Van in Biggin.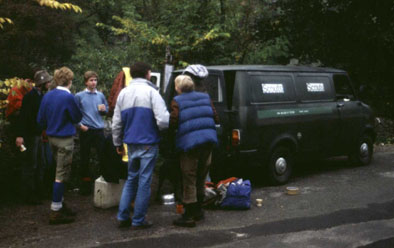 The amazing Belper Scout van.

---
Rivers Way. October 1984.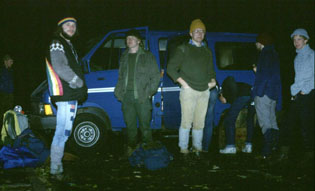 Friday 26th - Get picked up by the Minibus at 1.30am. Start walking on the at 3.15am, very dark, use touches until 7.15am. Walk through Baslow, Calver, Chatsworth and Endsor.
Saturday 27th - My legs hurt coming into Bakewell and I finish there. Drive round with Ade and Sharon. We stay at Bakewell Y.H., go to the Red Lion in the evening and see Cathy Roachford from ITV.
Sunday 28th - Drive round in the Minibus all day. Meet the others at the Packhorse in Crowdecote. Most people finish by 8pm.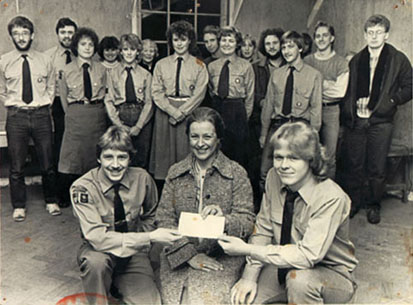 This is the presentation ceremony.

---
White Peak Initiative walk. April 1983.
Saturday 23rd - The team is Min, Charlie Knifton, Carl ? and Ian V. Leave Derby at 5.30am to drop the team off at Matlock. Me and AC are the support team. Drive up to Bakewell and cook 1/2 pound of bacon in the car park. See Pat Hallam in Chatsworth park on the way back.
---
Lyke Wake walk. October 1982.

Saturday 9th - Get picked up in the centre of Leeds by the minibus at 1am. Drive on to Osmotherley. Start walking at 3am. Mont and Ade ? do the support team. At the first check point we are expecting a full cooked breakfast. When we get there they just say "Crab or Jam" sandwiches, just disappointing. We split into an A and a B team. Nibor leads the A team at a fast pace and destroys a few people. I go in the B team with Zola and Clive, we take it steady. Clive calls it a day with only four miles to go. Me and Ian Vallans finish at 8pm. The last ten miles are easy, I feel like I could walk forever. Have lots of beer and then camp at the Flask Inn.

---