Rubicon Venture Scout Unit
---
I joined Rubicon in 1978 and only left when the unit faded away in 1999.


Rubicon V.S.U. has a section on the Scouts Reunited Web site. If you were in Rubicon V.S.U. why not register your name there.

---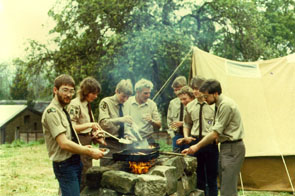 This picture is of the grand opening of Breadsall Scout Hut on the Saturday 18th of May 1985. Both the Scout and Guide County Commissioners attended the opening ceremony. Pictured are members of Rubicon cooking sausages, from the left me, Claire Munson, Robin Sibson, John Blount, Andrew King, Robert Taylor, Michael Crowe and David Elks. The alter fire was temporarily erected for the day and is still standing now.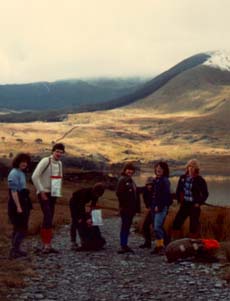 Part way up Snowdon after starting from the Oread hut in Rhyd du.

---