Long Distance Walks
---
Wilmot Wander - 26th Jan 2020
I leave at 6:25, pick up Quince, Robert and then Jack Winch from Junction Street. Park by the Co-Op travel place for the first time. We start the walk at 7:40am, team 43, Prof's Team. Rain starts just after we leave the Bridge Inn. Jack's right hamstring tightens as we leave Mickleover. As we enter Burnaston I realise that this year is a very muddy event. We get to Swarkestone for just before 6pm. The usual painful walk along the canal path, we have to walk an extra half mile to go to the alternative A52 bridge. I am surprised and a bit disappointed when our final time is 12:32.
---
Four Inns - 6th Apr 2019
Simon wakes up an hour too early and drives over to pick up Quince. He then goes back home and has a cup of coffee, before coming back at the right time. Simon picks me up at 3:15am. He drives us to Holmbridge, we arrive just at 5am. Simon talks to Alice who he met the other day in the Snake. We have been selected to be given a GPS tracker. With special permission we are the first team off at 6am, team 14, Prof's Team, a calm bright cold morning. Simon rockets ahead, digging his poles into the tarmac. We walk well and make good time, only five teams have passed us before Check Point 1. Nibor, Bromley and a friend pass us on the way up Black Hill. Simon leaves Crowden a couple of minutes ahead of us and then goes like a rocket. We do not catch him till the Torside checkpoint. As we are walking over Torside Dam I talk to a Scout Leader who has done the walk 45 times. Take it very steady up Torside Clough, I send Quince and Robert ahead to watch people doing the cut across. However, most people stay on the Pennine way. We walk a lot closer to the Torside stream this time, on the actual Pennine way. Enjoy this part very much, find Bleaklow Head easily in the Sunshine. We arrive at Doctors' Gate checkpoint, there are only a couple of teams behind us at this stage. Enjoy a couple of hot dogs. Simon gets stung by a wasp and has some first aid treatment. We get a good pace on down to the Snake. We are busy doing the calculations to see if we can make Chapel in time. Simon has more first aid from the Mountain Rescue at Snake Inn for about 20 minutes. We set off up Kinder, Simon is getting rather slow, up the usual route. I use View Ranger a lot to find the exact place to walk across, and it proves invaluable. We walk on a small footpath across to the other side in under ten minutes. There is then some uncertainty about where to go down. I follow the sat nav and we find an even smaller path which leads straight down the side of the hill, very pleased. The team are still asking for a half in the Nags Head, I say No. We make great time to the checkpoint at Edale, a bit disappointed that it is just more sandwiches. They say that we can make Chapel, no problem, I am not so sure. Set off towards Rushup Edge, Simon gets even slower, he is convinced that we will make Chapel anyway. Robert and Quince are getting a little concerned about him. I have a word with him and ask "Will Chapel be enough for you today ?", he says No!. We arrive with 15 minutes to spare. Another team arrive just after us. We set off through the estate towards the railway line, the Sat Nav is very useful again. Walk along next to the railway line and then past the Beehive pub. I have to insist that we walk past, Mountain Rescue are waiting for us at every turn. We have been joined with the other team by now. Up the steep road to Whitehall. Have the fantastic rice pudding with jam. Set off again with the other team and two Mountain Rescue in tow. Very dark, all navigation is from the Sat Nav, takes us down to the Dam. I am not sure that many of the team know we are crossing a Dam. Another checkpoint just before we head up the hill. It is different in the dark, but does seem to drag on. Rather cold at the Cat, put my Fleece on. Have coffee and jaffa cakes and then set off. It seems to take forever to get along the path, Robert says that he is still not sure if we will finish at this point. My blisters develop on this section. Mountain Rescue are waiting as we come into Buxton. Drag ourselves along the road to the School, arrive at 3:18, time taken is 21:18. Julie T opens the door, and we go in for a cup of tea. Have a great baked potato with chilli. Try to sleep in the hall, but it is too painful.
---
Wilmot Wander - 26th Jan 2019
I pick up Robert at 6:45am, Quince over sleeps and does not pick up Simon, they arrive a little delayed. We start walking at 7:30, rather than 7:20am. Very windy and a bit cold all day, there are record drop-outs due to cold. We see Gill Watson, she has climbed Everest, at Stanley checkpoint. Robert has a bit of a headache just before Vicarwood farm. I have a headache just after Radbourne church and again at Burnaston, we are the last team out of the checkpoint. We get to the canal for 4pm, it takes 1:15 to get to Swarkestone. Push hard to finish just after 7pm, 11:35, we are last. We have walked hard all day and could maybe have gone a little faster. We have the chicken soup and talk about entering the Four Inns. I drive us to the Three Horseshoes, Simon is very cold before we set off and has hot chocolate. Quince has beer and then suddenly goes very white and uncommunicative.
---
Wilmot Wander - 28th Jan 2018
Quince and Alison pick me up just after 7am. We have a start time of 7:32am, team 40. We make good progress in the early stages. Legs hurt a little by the Bridge Inn. We miss the bit where you cut the corner in Duffield and walk past the Chapel. We slow to under two mph on the way up Quarndon hill. No rain all day and mostly sunny. I eat the biscuits supplied and a fair bit of trail mix at Radbourne. I take two Ibuprofen for a slight headache just before we come into Burnaston. They kick in during the canal, and we really start to move. Join the canal at 3:20. I have to stop for a Paula Radcliffe along the canal. We are at Check Point Echo in the daylight. We are pressured to finish before 6pm by Rob Taylor, we do out fastest speed over the last few miles, almost 4 mph. We run the last few hundred yards from the bridge to the hut. Our time is 10:23.
---
Wilmot Wander - 31st Jan 2016
Me, Gee and Quince. We are team 49 and set off at 7:35, see Matt W and Jonathan Nightingale in the hut. Robert and Rachael were off at 7:18, we pass them on the golf course. We see Laura and James Harvey at the Bridge Inn. Jonathan Nightingale is walking with Brendan and Shaun, we see them at Mackworth Hotel. I have a 4ml shot of Jager at Stenson Bubble, it does not touch the pain. The walk along the canal is the worst it has ever been, just sliding around all the time. We finish in 11:34 one minute slower than last year. Robert is an hour behind us at Toyota. He proposes to Rachael there. They struggle on to Swarkestone and stop there.
---
Wilmot Wander - 25th Jan 2015
I pick at Thierry and Robert just after 7am, we set off at 7:38am. We try and take it nice and steady to start with. Weather is cool, with no rain. Have a long lunch stop at Radbourne with Dave Mac. After 22 miles it gets quite painful. Very much head down from Swarkestone. Done in 11:33, all very tired.
---
Wilmot Wander - 28th Jan 1996
Start at 7:14am with Ady and Sarah, William, Kate Moffat and Helen. Underfoot the conditions are firm, better than muddy, steady pace. Talk with William about his exams, Sarah about her taking a year off. Helen and Katherine start to hurt at 20 miles. A little sunshine in the afternoon. The girls are really hurting along the canal. We all finish in just under 12 hours.
---
Shropshire Way - Apr 1995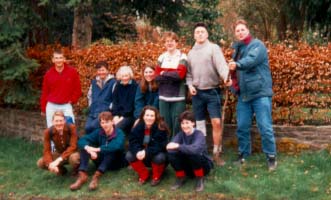 Rubicon V.S.U. organised a number of long distance walks to raise money for charity from 82 to 95 .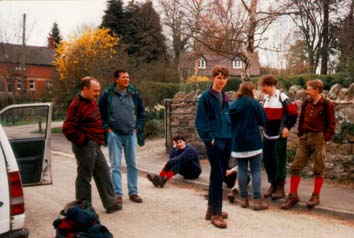 Another stop on the Shropshire Way.

---
Wilmot Wander - 29th Jan 1995
Walk with William Bugg and Matt Smith. Clear day. Use my new mobile phone to call my parents from the canal at Findern. Matt has never walked more that 15 miles before.
---
Wilmot Wander - 30th Jan 1994
Start at 7:22 Me, Adjy and Sarah, William and his Dad, M Bailey, Paul Furmston. Cold and Windy, keep up a cold pace. Michael and Funky give up after 18 miles. Mr Bugg lags behind a little, but there is no doubt about him finishing. Takes 11:15 hours. Last 4 miles hurt a lot. Knees not too bad, but blisters on my feet hurt a lot.
---
Belvoir Challenge - Feb 1993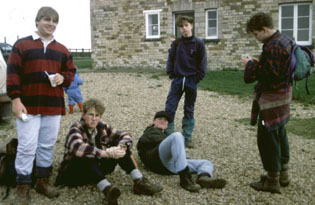 A 25 mile circular walk round Belvoir Castle in February 1993. There was a long running joke about the pronunciation of 'Belvoir' and I do not know if the ventures were ever sure if I was joking or not.
---
Wilmot Wander - 31st Jan 1993
Start walking at 7:36am, very fast pace to start with. Join up with a group from Emanon. Everyone is together until the Bridge Inn. The lads are keen to get going, catch up with them at Kedleston Road. OK till Shelton Lock, starts to hurt. Walk with Adjy finish at 10:40, William finishes 20 mins ahead of me.
---
Rivers Way - Oct 92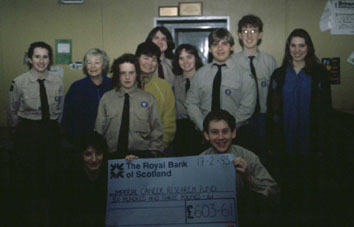 Cheque presentation for the Rivers way in Feb 93.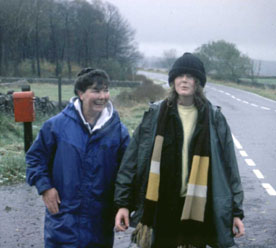 Edna Blount and Emily Hammond on the Rivers Way charity walk in October 1992. I had completed the Edale to Eyam walk on the Saturday and spend all day on Sunday supporting the other walkers from local hostelries, this is taken near the 'Duke of York'.

Wilco and others on a practice walk in preparation for the Rivers Way. He kept on asking me if we could 'TAB the first 15 miles'. It was a long time until we learnt that it stood for Tactical Advance to Battle. However during the walk itself he dropped out fairly early.

---
Wilmot Wander - 26th Jan 1992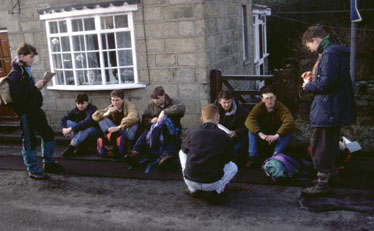 We take part in first Wilmot Wander. This is a 32 mile circular walk round Derby starting at Chaddesden and going through Stanley, Morley, Coxbench, Duffield, Quarndon, Mackworth, Radbourne, Findern, Swarkestone, Sinfin and back to Chaddesden. We had a team of 14 at the start. Jo Pither stopped after 18 miles, Adjy and Big Rich after 20 miles, Pat, Edna, Pete K, Tats and Wilko stopped after 28 miles. Me, William, Funky. Robert Tatton Jones and Michael Bailey make it all the way round in a grueling twelve and a half hours.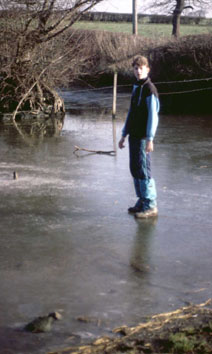 William standing on a farm pond at Vicarwood farm, Mackworth, almost half way round.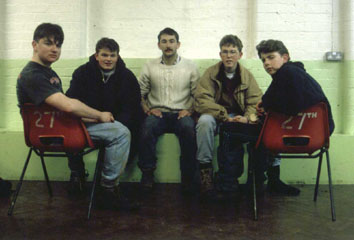 This is the team that made it to the end in . The last couple of miles along Raynesway seemed to last forever.

---
Gritstone Way - Sept 1989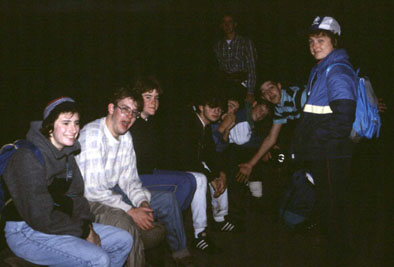 The start of the Gritstone way at 4am at Whatstandwell. PDF document


ZZT - The full writeup is in my Old Scouting folder ZZT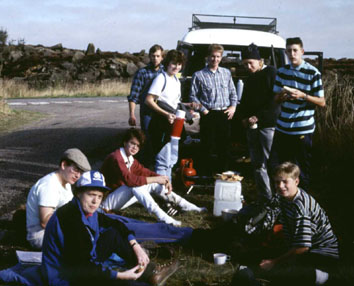 Having breakfast on the top of Beeley Moor.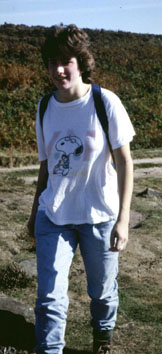 Anna on the way over Baslow Edge.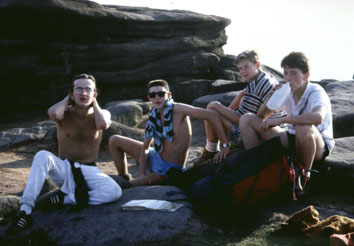 On Froggatt Edge with Richie Harris, Face, Lee and Bunce.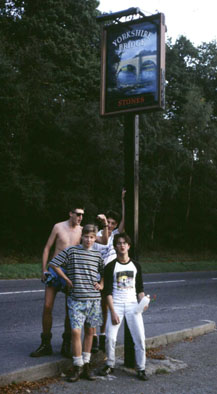 The end of the first day on the 'Yorkshire Bridge'.

---
Limey Way Sept 1986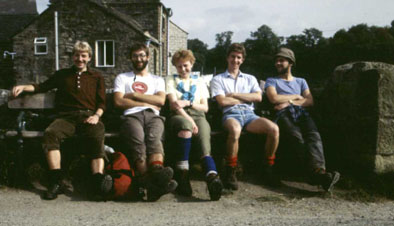 On the Limey Way September 1986. The 'A' team consisted of Robin Sibson, Me, Debbie Lloyd, Andrew King and Clive Rhodes.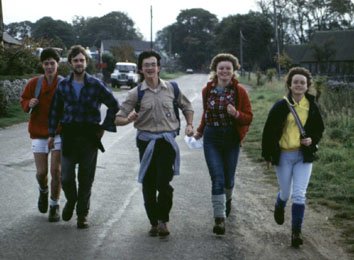 Racing to the support Van in Biggin.

The amazing Belper Scout van.

---
Rivers Way. October 1984.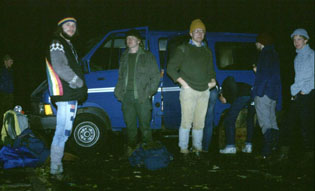 Friday 26th - Get picked up by the Minibus at 1.30am. Start walking on the at 3.15am, very dark, use touches until 7.15am. Walk through Baslow, Calver, Chatsworth and Endsor.
Saturday 27th - My legs hurt coming into Bakewell and I finish there. Drive round with Ade and Sharon. We stay at Bakewell Y.H., go to the Red Lion in the evening and see Cathy Roachford from ITV.
Sunday 28th - Drive round in the Minibus all day. Meet the others at the Packhouse in Crowdecote. Most people finish by 8pm.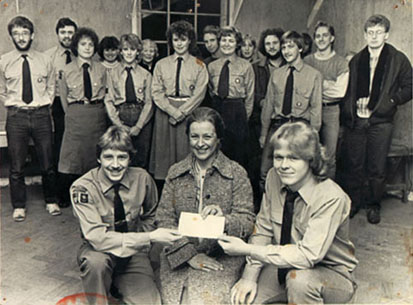 This is the presentation ceremony.

---
White Peak Initiative walk. April 1983.
Saturday 23rd - The team is Min, Charlie Knifton, Carl ? and Ian V. Leave Derby at 5.30am to drop the team off at Matlock. Me and AC are the support team. Drive up to Bakewell and cook 1/2 pound of bacon in the car park. See Pat Hallam in Chatsworth park on the way back.
---
Lyke Wake walk. October 1982.

Saturday 9th - Get picked up in the centre of Leeds by the minibus at 1am. Drive on to Osmotherly. Start walking at 3am. Me and Ian Vallans finish at 8pm. Camp at the Flask Inn.
---